It's February 5th, do you know what that means.. World Nutella Day! Nutella is one fine aphrodisiac, after one taste you will be smitten. The chocolate hazelnut richness is simply divine. So many delicious things that you can do with it: from simply spreading it on bread to spreading it on someone and slowly licking it off. Oh double yum..
In case you want to share this sexy aphrodisiac with others, here is a delightful mousse that I like to call "The Sexual Chocolate Mousse".
"The Sexual Chocolate Mousse"
1/2 cups whipping cream
1/2 cup Nutella
2 tbsp hot water (not boiling)
2 tsp instant espresso
Dash of Kahlua
Shaved Dark Chocolate for topping
- Dissolve instant espresso in hot water in a medium sized bowl
- Add the Nutella and Kahlua, beating until smooth
- In a mixer, whip the whipping cream until it forms stiff peaks
- Gently fold the nutella mixture into the whipped cream until the color is combined
- Divide mousse into sexy serving glasses
- Add dark chocolate shavings to give the taste an extra pop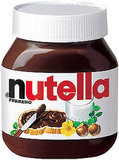 Enjoy the orgy on your tongue, this has foodgasm written all over it...
Keep it luscious!